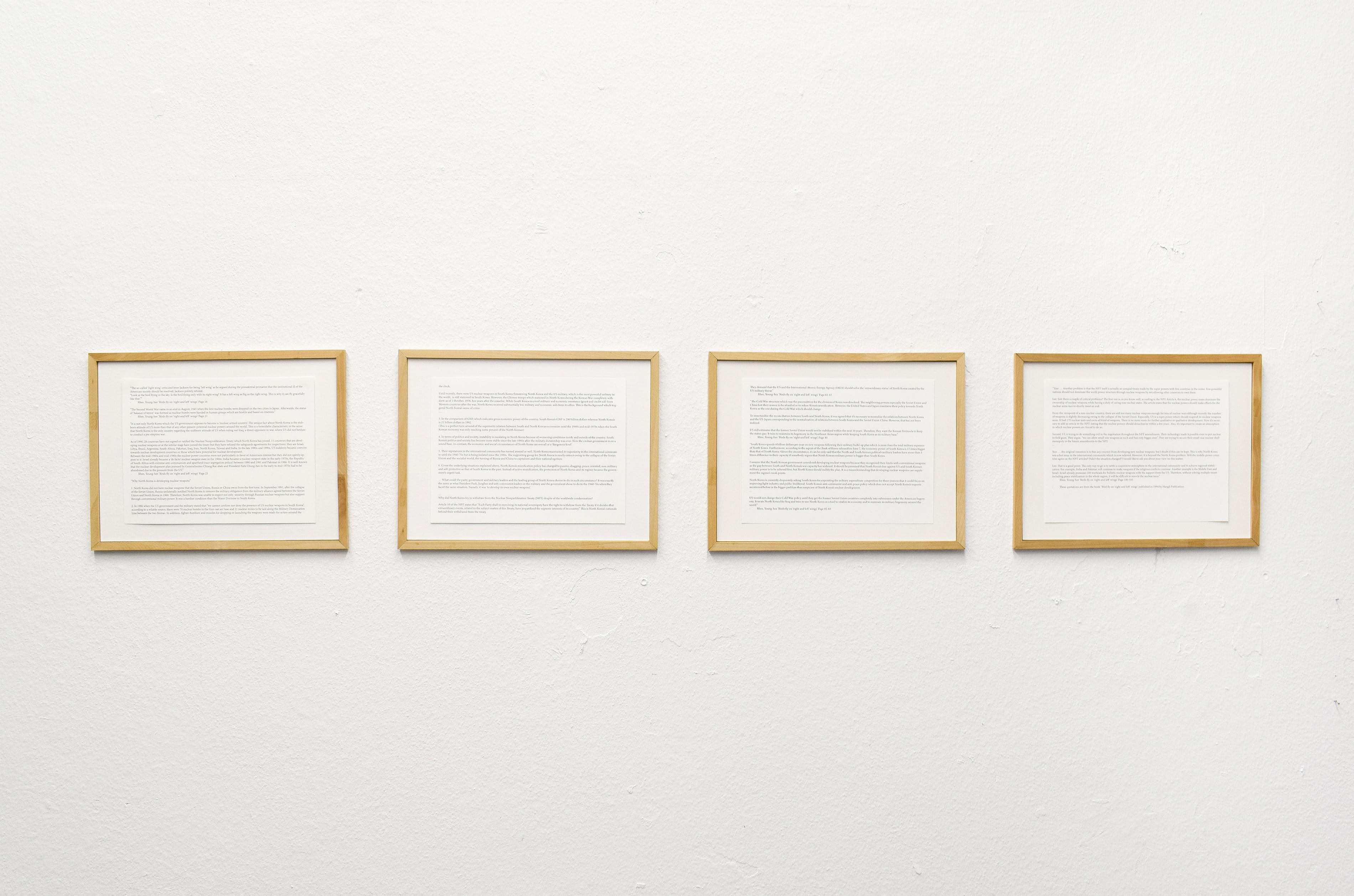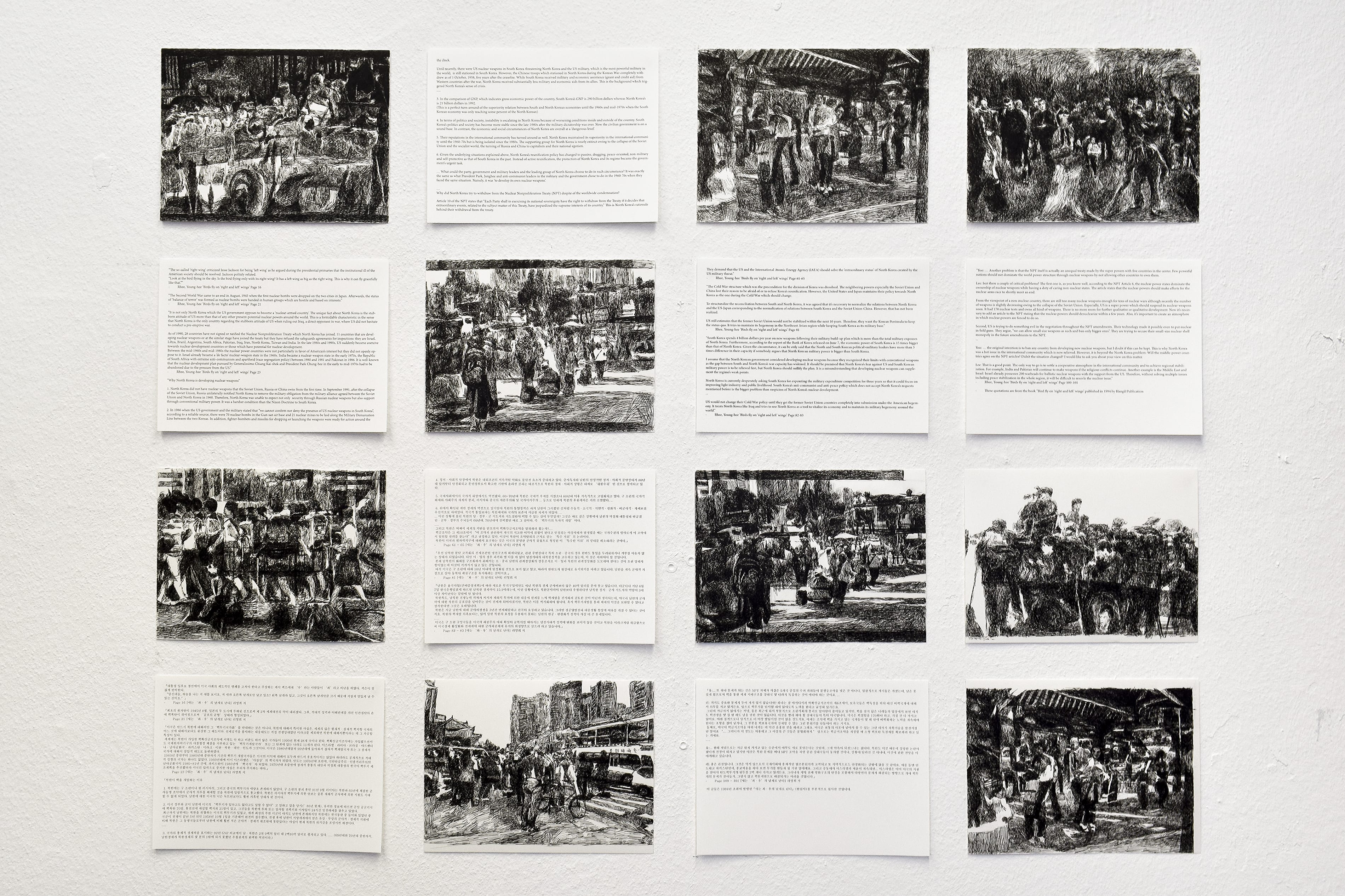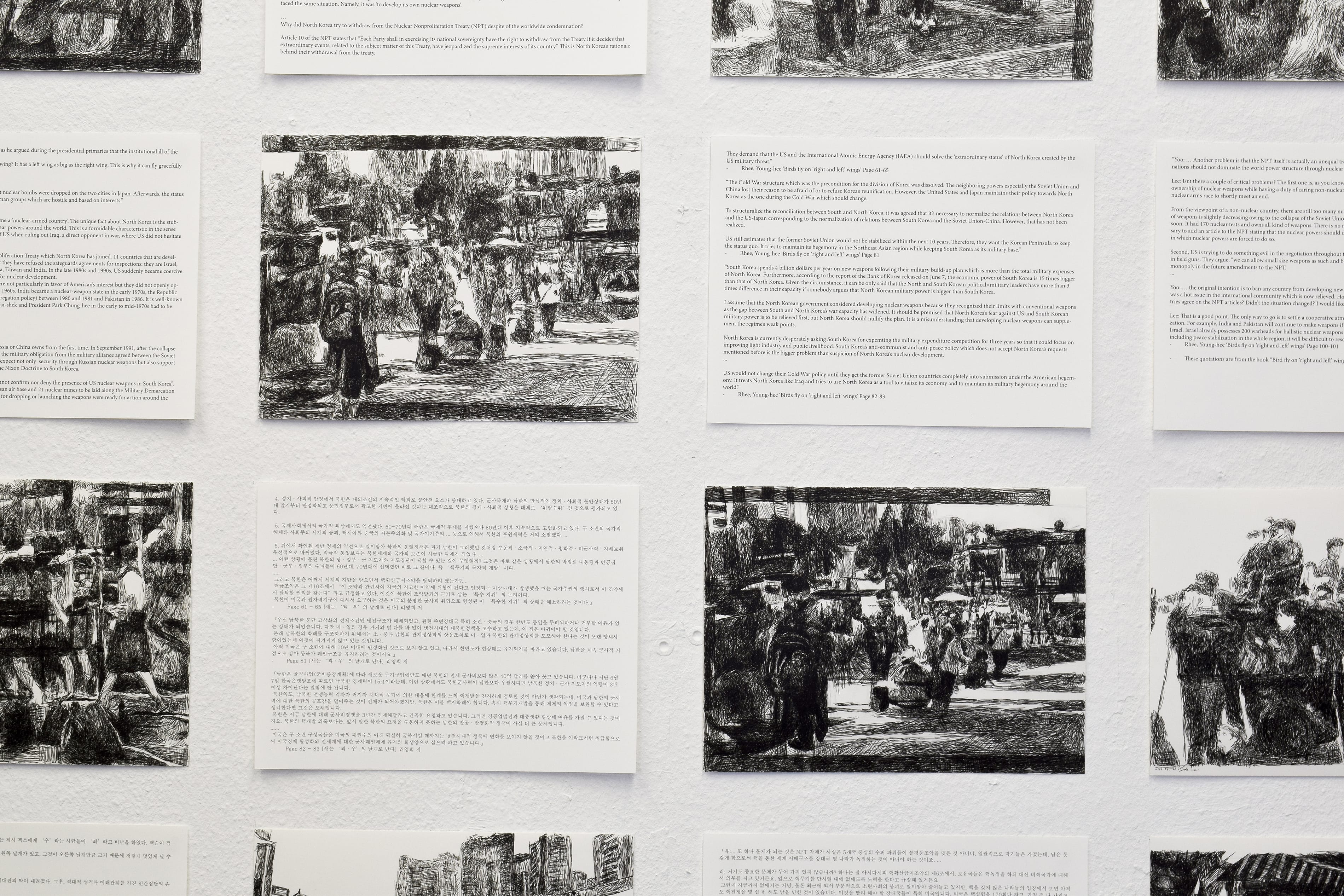 화해의 안녕
The word reconciliation comes from a Latin word 'conciliatus'. 'Conciliatus' has the meaning of "coming together" or "gathering together". In the Korean dictionary, 'reconciliation' means stop fighting and resolve the negative feelings against each other. Reconciliation is a word embracing an end of a bad relationship and a start of a new relationship. 'An-nyong' or 'An-nyong-ha-seyo' is a Korean greeting which is a genuine expression of greet and respect from the heart rather than a simple communication. A genuine reconciliation brings a genuine greeting. Therefore, a greeting becomes a sign of reconciliation. Then, shouldn't a start of a genuine greeting call a genuine reconciliation? 
I belong to a generation that has not experienced Korean war but only the time of division. When I was young, I picked up a so called 'bira' (flyers against South or North Korea) at a mountain in my village and drew posters with slogans such as "I don't like the Communist Party". Even two years ago, there were spy report promotional materials in the train I was taking. Due to the trained awareness toward North Korea since I was young, it took some time to accept that the size of the South Korean economy was only some percentage of that of North Korea during the 60s until the middle of 70s. The gap between the prejudice implanted by education and the fact was sometimes significant. 
Still what I can know about North Korea is very limited. To even suggest a rash reconciliation, we know too little about each other. The fact that we do not know each other well reflects the tragedy that our lives are already too far away. Why do we have to know very little about each other? What kind of lives exist over the post that we have to hide each other? Will there be any ways for us to get closer to each other's lives? 
I suggest to greet. Since we cannot directly say hello to the North Koreans, we say hello to the traces of their lives. Based on the lives that cameras have captured, I imagine the time of our lives penetrating the Southern and Northern part. How did someone in the Northern part spent the lives I have went through yesterday. How will they accept the issues frequently appearing in news programs these days in the Southern part? What are the shared thoughts and feelings and what will show big differences. I invite the two spaces to a single time. I capture the scenes opening like a déjàvu. Dialogues start over the scenes. On the other hand, I imagine how the flag will look like after reunification. Flag symbolizes a certain country. Imagining a country with a waving flag comes in a more detailed form than that of an anonymous country. What language will the people use in that country? What kind of governmental structure will be organized? Will there be a well-prepared social welfare system? Imagination becomes rich and expanded. Imaginations become thoughts and thoughts become imaginations again. Repeated imagination comes in to a part our lives. 
'Shouldn't we be able to imagine at least once to make it possible in reality?' I recall a sentence I wrote in a letter when starting this project. We, who cannot meet in person, can only meet each other in our imaginations. However, couldn't our imaginations come closer to reality when those imagined meetings are continued?
2018, Eunah Hong
Translation: Dahye Yim
화해의 안녕
화해(reconciliation)는 라틴어 'conciliatus'에서 유래된 말이다. 'conciliatus'는 '함께 오다.' 또는 '같이 모이다.'를 의미한다. 국어사전에서 '화해하다.'는 싸움하던 것을 멈추고 서로 가지고 있던 안 좋은 감정을 풀어 없애는 것이라고 명시하고 있다. 화해란 좋지 않은 관계의 종료와 함께 동반자로서의 새로운 관계에 시작을 품은 말인 것이다. '안녕' 또는 '안녕하세요'라는 말은 한국의 인사말로서, 단순한 소통이 아니라 마음에서 우러나오는 존경심과 반가움의 표현이다. 진정한 화해는 진정한 인사를 부른다. 그래서 인사는 화해의 표지가 되기도 한다. 그렇다면 진정한 인사의 시작도 진정한 화해를 부르게 되지 않을까?
나는 한국전쟁을 겪지 않고, 분단의 시간만을 겪은 세대에 속한다. 어릴 적 동네 산에서는 소위 삐라(대남 또는 대북 전단)를 주웠고 학교에서는 '공산당이 싫어요' 포스터를 그렸다. 내가 타던 지하철에는 2년 전까지도 간첩신고 홍보물이 붙어 있었다. 어릴 적부터 훈련된 북에 대한 인식으로 인해, 60년대와 70년대 중반까지 남한경제가 북한경제의 몇 분의 1밖에 되지 않았다는 사실을 받아들이는 데도 시간이 필요했다. 교육이 심은 선입견과 사실의 간극은 때로 컸다.
여전히 내가 북한에 대해 알 수 있는 것들은 한정적이다. 섣불리 화해를 건네기에도 우리는 서로를 너무 알지 못한다. 서로를 잘 알지 못한다는 사실은 서로의 일상이 이미 너무 멀리 놓여있다는 비극을 보여준다. 우리는 왜 서로에 대해 잘 알지 못해야만 하는가. 말뚝 너머에 어떤 일상이 있길래 서로를 은폐해야 하는가? 우리가 서로의 일상에 다가갈 방법은 없는 걸까.
나는 인사하기를 제안한다. 우리가 북의 사람들에게 직접 인사를 건넬 수는 없으니 그들의 생활이 남긴 흔적과 인사한다. 카메라가 포착한 일상을 기준으로 남쪽과 북쪽을 관통하는 일상의 시간을 상상한다. 내가 어제 거쳐온 일상을 북쪽의 어떤 이는 어떻게 보냈을까. 요새 남쪽 뉴스에 많이 나오는 이슈들을 그들은 어떻게 받아들일까. 공유하는 생각이나 감성은 어떤 것이고, 어떤 것이 큰 차이를 보일까. 나는 두 공간을 한 시간 속으로 초대한다. 기시감처럼 열리는 장면을 포착한다. 장면 위로 대화가 시작된다. 한편 나는 통일된 한반도에서 어떤 국기를 쓰게 될지 상상해본다. 국기는 어떤 나라를 상징하는 기이다. 국기가 펄럭이는 나라에 대한 상상은 익명의 나라에 대한 상상보다 구체적으로 다가온다. 그 나라 사람들은 어떤 언어를 쓸까. 어떤 정부 형태로 조직되어 있을까. 복지 제도는 잘 갖추어져 있을까. 상상은 풍성해지고 확장된다. 상상은 생각이 되고 다시 생각은 상상이 된다. 그렇게 반복되는 상상은 우리 일상의 한 부분으로 들어온다.'한 번쯤은 상상해 볼 수 있어야 현실로도 가능한 것이 아닌가.' 이 프로젝트를 시작하며 썼던 편지의 한 구절이 생각난다. 만날 수 없는 우리는 상상으로서만 조우할 수 있다. 그러나 그 만남이 지속된다면 우리의 이 상상이 현실 가까이로 다가올 수 있지 않을까.

2018, 홍은아